We offer an assortment of lead boxes made from cardboard or plastic. We can customize your lead box with your business logo and art work. Plus, we'll work with you to determine exactly which type of box would suit your needs. We even offer Text Marketing to give you an extra boost. Below are some of our options:
Lead Box and Text Marketing Services Include:
Lead Boxes – try our new innovation with lead box design
Instant Lead Retrieval – get your leads the moment your customer registers
Text Marketing – allows you to contact your customers quick and direct

Reach your customers instantly
with Text Marketing
Acrylic Box
Acrylic Boxes add a touch of elegance and class to your lead box marketing. Businesses are more accepting of our acrylic boxes because of their counter friendly size and high quality look. Potential clients tend to judge your business on a higher scale.
Plastic boxes can also last longer than cardboard boxes and cannot be written on. Your offer can be easily changed with minimal effort and cost to you. We stock a wide variety of styles and colors.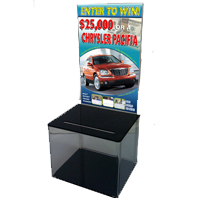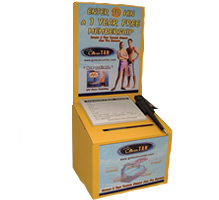 Cardboard Box
Cardboard boxes are very effective, especially when quantity on a lower budget is the goal. Use with our glossy peel and stick labels to create a very attractive lead, contest, or ballot box. Durability, optimum size, ease of use, great looks, our cardboard boxes cannot be beat!
Our cardboard boxes are easy to set up, and do not lose their structure after repeated use because of our unique easy open/close tabs on bottom of the box. Keep this in mind, our boxes are made for repeated use and can be opened and closed indefinately without damaging or unwanted creasing. We stock a wide variety of colors and styles.

Notepad + Pen
Like you would expect, with the Lead Boxes there must be pens and notepads for customers to fill their information out on. We have those for you as well!